News
​NSSF AND MINISTRY OF FOREIGN AFFAIRS ENTERS AN AGREEMENT OVER ESTABLISHMENT OF DIASPORA DIGITAL HUB
---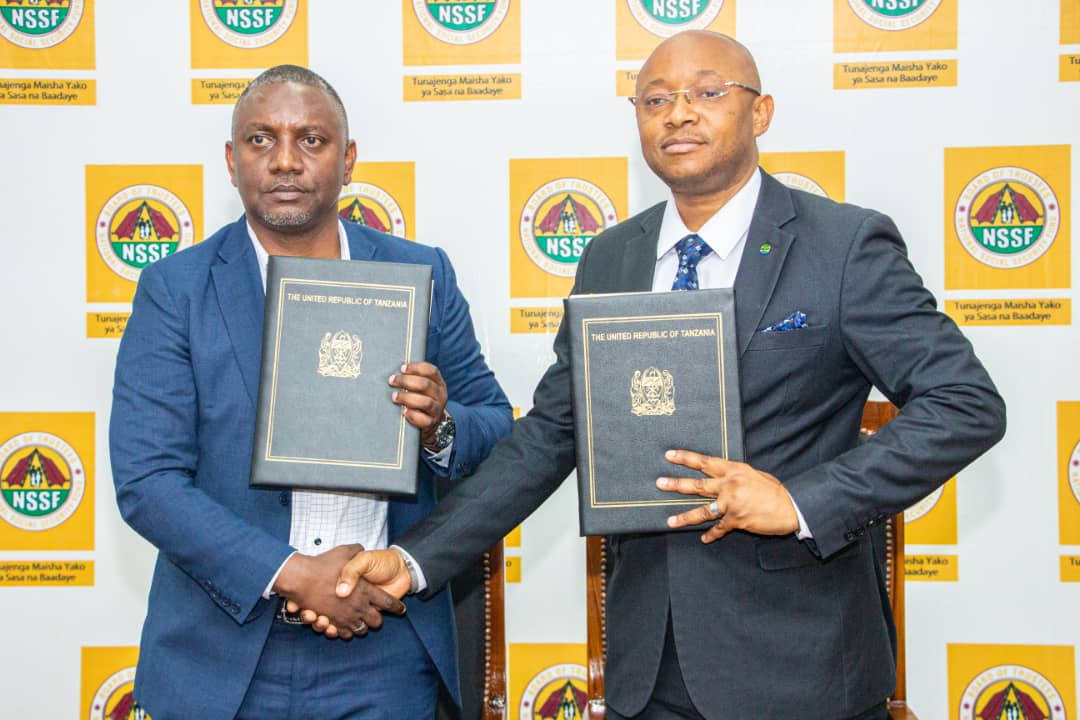 BY CORRESPONDENT
The National Social Security Fund (NSSF) has signed a Memorandum of Understanding (MoU) with the Ministry of Foreign Affairs and East African Cooperation towards establishment of the Diaspora Digital Hub which is intend to register and store database of the Tanzanian Diasporas presence in various parts of the World.
The MoU was signed yersterday at the Ministry Sub Office in Dar es Salaam and expected to offer tremendous opportunities for the National Social Security Fund (NSSF) to market its investment projects such as houses, available land bank together with others services and products offer by the Fund.
Speaking during the signing event on behalf of the Director General Masha Mshomba, Mr. Ibrahim Maftah who is Director of Actuarial and Risk Management and Acting Director General of the National Social Security Fund pointed out that, NSSF has pledged to sponsor 50 million to facilitate the establishment of the Diaspora Digital Hub.
Maftah went on to expound that, NSSF decision to support the Diaspora Digital Hub is based on the significance of the activity and to support government effort to ensure that diasporas are being part and parcel of our National economic Development.
"NSSF recognize and value the Diaspora's contribution in building economy of our Nation and that NSSF at all times has been in a forefront to participate in various matters relating to Diaspora activities". Maftah said.
On his party, Hon. Ambassador James Bwana who is also Director of the Diaspora Unit at the Ministry of Foreign Affairs and East African Cooperation articulated that, the intended Diaspora Hub will help to collect and gather key information pertaining to diasporas such as skills, experience and their number which would assist to coordinate government activities to ensure they fully participate in economic activities of the Nation.
"This is key milestone and the Diaspora Hub will help government to have right database on the statistics of those diasporas and more importantly for the Stakeholder Institutions to easily reach those diasporas". Said Amb. James Bwana.
On the other hand, the two parties appealed on to extend and continue cooperation in other key maters of the state interest which would also lead to mutual benefit among the parties particularly in advancing country's foreign owned plots available in various countries of the World of which government is now on the process to effectively utilize them.